All Tires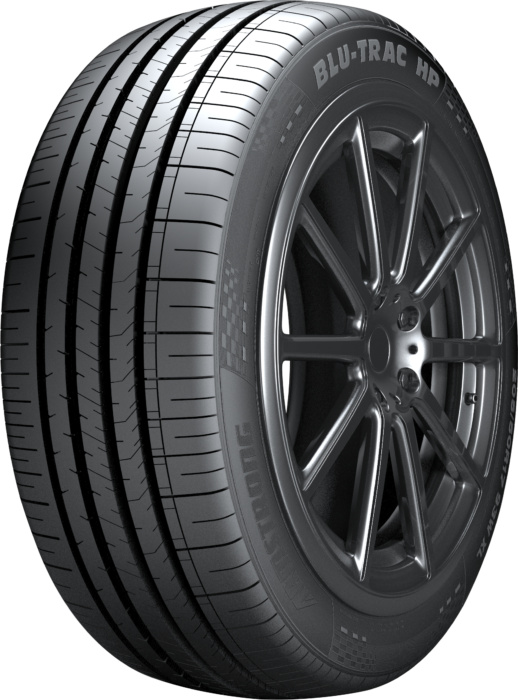 This Ultra High Performance tire features circumferential and sub-straight grooves to deliver enhanced water evacuation, handling, and stability. Its sipe design provides increased grip, safety, and comfort, while a silent groove wall reduces outside noise.
Category: Performance
Rating: UTQG 340 A A
6 YEAR LIMITED WARRANTY
24/7 ROADSIDE ASSISTANCE
ROAD HAZARD REPAIRS
45K MILEAGE WARRANTY
30-DAY MONEY BACK
Features
Four wide circumferential grooves.
These four grooves, which span the circumference of the tire, work in conjunction with the lateral grooves to evacuate water rapidly, leading to improved handling and traction.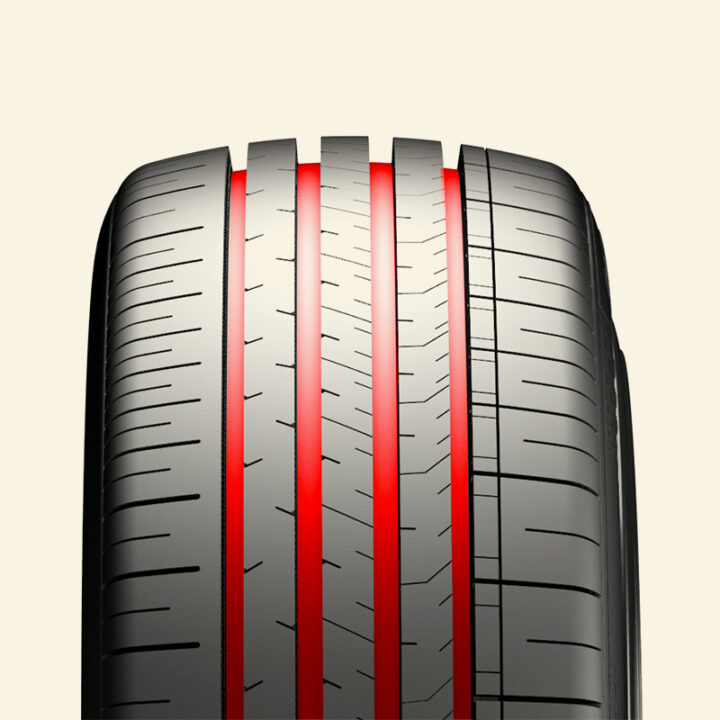 A variety of sipe designs.
A variety of sipes distributed on the inner ribs creates extra gripping surfaces for enhanced safety and ride comfort.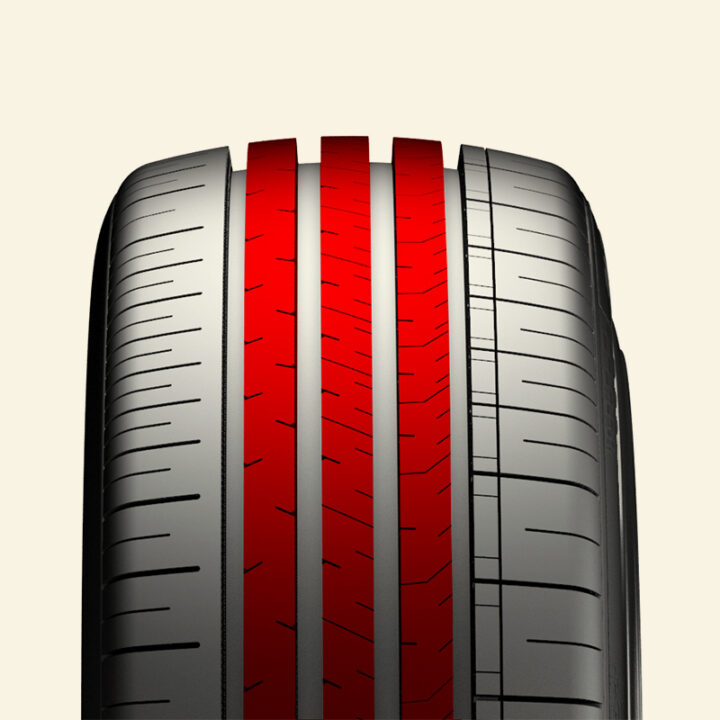 Sub-straight grooves.
Sub-straight grooves in the outer shoulders improve cornering precision and stability.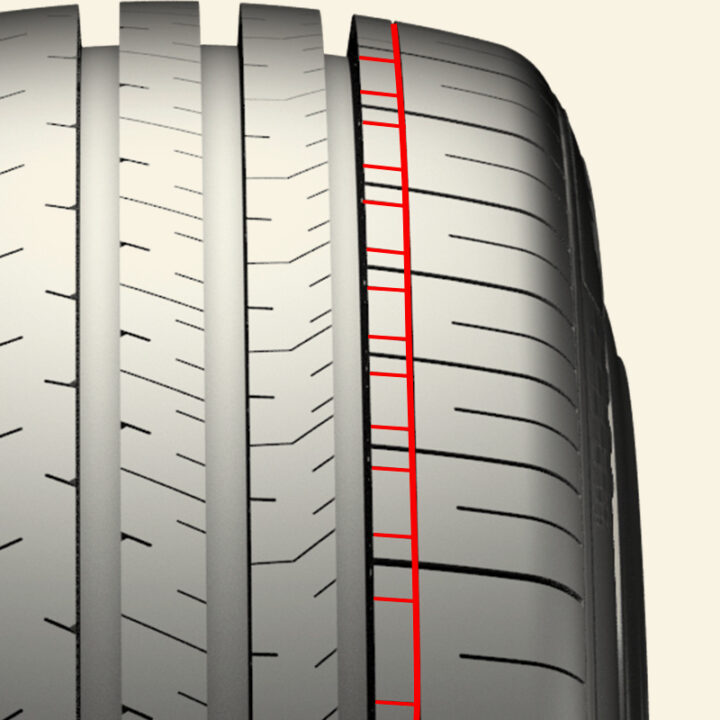 An innovative silent groove wall.
The silent groove wall reduces outer noise by disrupting the air flow through vertical serrations.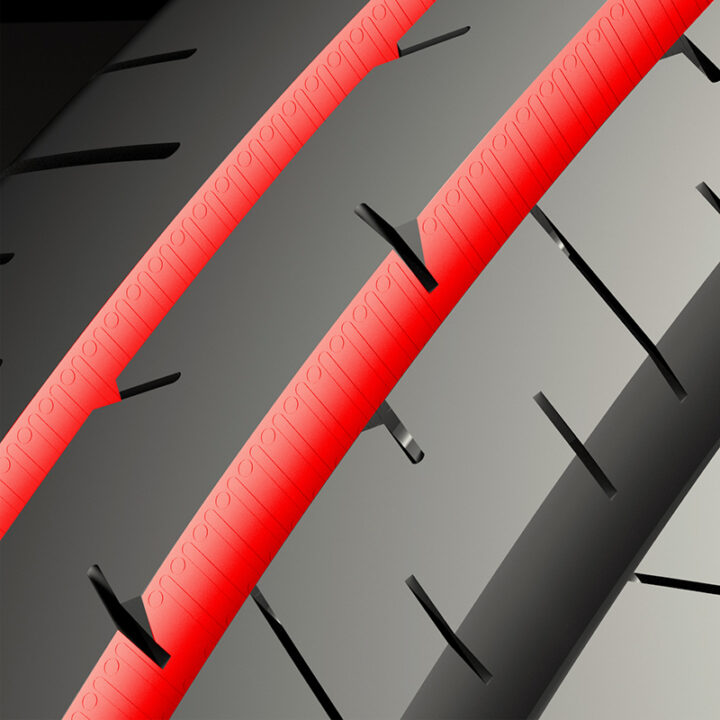 Specifications
Ascept Ratio
Tire Size
Load &
Speed
Index
Maximum Load
(lbs)
Maximum
Inflation
Pressure(psi)
Rim
Width
(inches)
Section
Width
(inches)
Overall
Diameter
(inches)
Tread
Depth
(32nds)
60
215/60R17
96H
1565
44
6.5
8.7
27.1
10
225/60R18
100H
1765
44
6.5
9.2
28.6
10
55
185/55R14
80H
990
44
6
7.6
22
10
185/55R15
82V
1045
44
6
7.6
23
10
195/55R15
85V
1135
44
6
8
23.4
10
195/55R16
91V XL
1355
50
6
8
24.4
10
205/55R16
94W XL
1475
50
6.5
8.4
24.9
9
215/55R16
97W XL
1610
50
7
8.9
25.1
9
225/55R16
99W XL
1710
50
7
9.1
25.6
9
215/55R17
98W XL
1655
50
7
8.9
26.4
9
215/55R17
94Y
1475
44
7
8.9
26.4
9
225/55R17
101W XL
1820
50
7
9
26.9
9
235/55R17
103W XL
1930
50
7.5
9.7
27.1
10
50
195/50R15
86V XL
1170
50
6
7.8
22.7
10
195/50R16
88V XL
1235
50
6
7.8
23.7
10
205/50R16
87Y
1200
44
6.5
8.2
24.1
10
225/50R16
92W
1390
44
7
9.2
24.8
10
205/50R17
93W XL
1435
50
6.5
8.4
25.3
9
215/50R17
95W XL
1520
50
7
8.6
25.5
9
225/50R17
98W XL
1655
50
7
8.9
25.9
10
235/50R18
101W XL
1820
50
7.5
9.5
27.3
10
45
195/45R16
84V XL
1100
50
6.5
7.7
23
10
205/45R16
87W XL
1200
50
7
8.1
23.2
10
205/45R17
88W XL
1235
50
7
8.1
24.2
10
215/45R17
91W XL
1355
50
7
8.4
24.7
9
225/45R17
94Y XL
1475
50
7.5
8.9
25.2
9
235/45R17
97W XL
1610
50
8
9.3
25.4
9
245/45R17
99W XL
1710
50
8
9.6
25.7
9
225/45R18
95W XL
1520
50
7.5
8.9
26.1
9
235/45R18
98W XL
1655
50
8
9.3
26.3
10
245/45R18
100W XL
1765
50
8
9.6
26.7
9
255/45R18
103W XL
1930
50
8.5
10
27
10
245/45R19
102Y XL
1875
50
8
9.6
28
10
40
205/40R17
84Y XL
1100
50
7.5
8.3
23.5
9
215/40R17
87W XL
1200
50
7.5
8.6
23.9
10
245/40R17
95W XL
1520
50
8.5
9.7
24.7
10
225/40R18
92Y XL
1390
50
8
9.1
25.1
9
235/40R18
95W XL
1520
50
8.5
9.5
25.4
10
245/40R18
97W XL
1610
50
8.5
9.8
25.7
9
245/40R19
98Y XL
1655
50
8.5
9.8
27.1
10
35
255/35R18
94W XL
1475
50
9
10.2
24.9
10
225/35R19
88W XL
1235
50
8
9.1
25.3
10
235/35R19
91W XL
1355
50
8.5
9.5
25.6
10
245/35R19
93W XL
1435
50
8.5
9.8
25.9
10
255/35R19
96W XL
1565
50
9
10.1
26
9
225/35R20
90Y XL
1325
50
8
8.9
26.6
9
245/35R20
95Y XL
1520
50
8.5
9.8
26.9
10